About the Artist...
Gwen-Helene Warnke is a nationally recognized decorative Artist, Painter and Sculptor. Her works of art, many commissioned, are displayed in some of the finest homes and establishments across the country and in Europe.

Gwen's background is in theatre. With the "Miss New Jersey", "Miss America" Pageant as a beginning and a scholarship in hand to the American Academy of Dramatic Arts, NYC, she then traveled with various productions on tour throughout the U.S. and P.R. She also appeared extensively in Las Vegas, most notably at the Follies Bergere.

Gwen Studied fine art at the University of Nevada and at the New School of Design, NYC. But, as she will tell you emphatically, "There are no schools or universities where the decorative arts from all the different countries are taught. So you are left to seek out the indigenous Masters and study with them one on one, side by side!"

Gwen gathers more than 30 years experience as a decorative artist. Throughout her career her diversity as an artist is impressive. From Museum Quality heirlooms, to pastoral landscapes on canvas or sculpted portraits and dolls in porcelain. Her approach to her work as well as her techniques will captivate you.

Artist Statement

"It is my passion to continue the decorative arts tradition. To see my beautifully painted heirlooms cherished and handed down generation to generation is my joy. And, to know that through my teaching I had a part in never letting this "fine art" form be lost or forgotten is my legacy.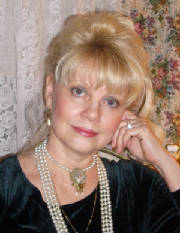 Gwen now resides in the quaint town of Milford, Pa., which is nestled in the Pocono Mountains along the Delaware River. While painting is an important part of her life, she still manages to allocate her time between grandchildren in New Jersey and California, Las Vegas, and also the horse and alpaca farm both she and her husband, Arthur, enjoy near Lexington, Kentucky.